Random Featured Article:
Random Good Articles
MC Wiki
N/A
MC Crunchyroll Updates
N/A
MC Wiki
Quote of the Month
"The world is not full of cute little bunny rabbits prancing around in colorful flowerbeds with rainbows all over."
— M., a friend of Dmitri —
Article of the Month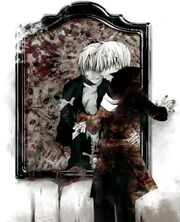 SALIGIA is a group made of the Sinners that has been both an antagonist group and a protagonist group through the course of the role play Mystical Community. SALIGIA resides in the Mu where the Sinners have control over sins. Each Sinner can manipulate a sin in a person to a certain degree depending on one's power but cannot completely control it.
Helping out
To write a new article, just enter the article title in the box below. Remember, though, that admins may edit article to match MC Wiki's Character Page Format (if a character bio) or to make other changes. All members are free to edit pages in where they see errors, whether in information or things like grammar and misspelling.
Community content is available under
CC-BY-SA
unless otherwise noted.